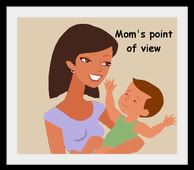 I was so excited to open my e-mail the other day and find an invitation to do a guest post; my first
ever!
If you want to know where and what I'm writing about today I'm happy to tell. I'm writing about my experience being an
empty nester.
Want to know what life is like for a Mom after the kids leave the nest? Come visit and say hi to Terri a stay at home mother of four and my lovely host at
mom's point of view
and find out. Don't forget to leave a comment and show us some love.
My post will be featured all day today Monday, September 26, 2011. And if by chance you miss reading it today, you can read it by clicking
here
.
Just click on Terri's blog button or her blog's name (which is in blue) and visit!